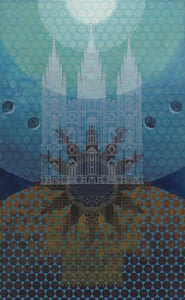 $

175.00
Canvas Giclee print of "The Same Yesterday, Today and Forever" by Nick Stephens. Giclee (pronounced "gee-clay") prints are the highest quality art prints available. These are printed on high-quality canvas to give the print the same feel as a painting on canvas.
Three options are available:
"Rolled in Tube", is the print on canvas rolled in a tube. You will have to have it stretched at the framing shop prior to framing. This option is best for long distance shipping.
"Standard Stretched." The printed canvas is stretched on standard stretcher bars and stapled on the sides. This option requires framing to cover the stapled side.
"Gallery Wrapped." With this option the canvas has a black edge printed around the art and is then stretched around 1.5 inch thick stretcher bars and stapled on the back side of the art. It requires no framing and gives the piece a very contemporary look.